I was born in Yorkshire, England and started teaching way back in the '70's. I soon became the Head of Art at a Grammar School, a post I held for a number of years, before joining the senior management team of that school. In 2000 I left teaching to explore new pastures, setting up my own arts business, 'Paul Priestley Arts' to provide art courses and interactive art events. I also found time to develop my own painting.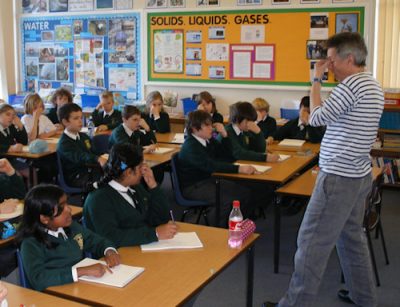 Beginnings
In 2008 I came up with the idea of running art workshops in school, but I needed something to make my workshops stand out from the crowd. I came up with the idea of running art workshops as famous artists, such as Picasso.
An Artist in School
I started the day with a re-enactment of the great artist's life, in which children had parts to play, followed by a drawing workshop in which I showed children how to draw in the style of the artist. The afternoon started with a painting demonstration where I showed children how to paint like the famous artist. For the rest of the afternoon children created their own paintings, based on their drawings from the morning.
They produced wonderful work. I recreated the lives of 12 artist's with workshops to match and by 2016 I could not cope with the demand. I am lucky enough to have my own studio, so the solution to the problem was obvious. Reproduce my recreations of famous artist's lives as videos that school's to use via my website.
You can find details of the Famous Artist videos here. I also run a YouTube Channel where you'll find lots of easy drawing tutorials – which are FREE and aimed at children – which cover all aspects of drawing and painting and could be used to compliment a Famous Artist video to create a wonderfully inspiring art experience.
Paul Priestley
Enjoy my Art History videos?