Looking for Art Worksheets for your Art Lesson?
Our FREE art support materials could be the answer you are looking for.
Composition
Art teachers know children often don't realise they can compose a picture just like they can compose a story. Therefore, understanding a little about composition could make a child's painting much more coherent. Why not download our FREE Art Worksheets for use in your art lessons. How to Compose a Picture will enhance your student's art education and their paintings.
Colour Wheel
Art teachers know younger children can find the basics of colour mixing rather difficult, but it should be part of their art education. This art worksheet covers; primary colours, secondary colours and complementary colours and how to create tints and shades simply. In addition, for more detailed information see the video below. Improve you students understanding by downloading our FREE Art Worksheets.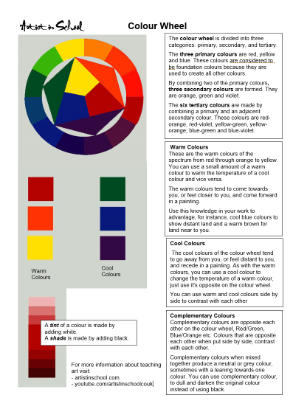 Colour Theory
Older art students need a basic understanding of colour theory as part of their art education, especially those studying GCSE and A Level art courses. Art teachers, colour relationships and how colours are affected by colours around them is covered in this worksheet. More details in the video below. Improve your students knowledge by downloading this FREE Art Worksheet.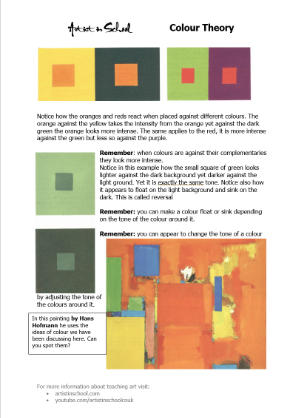 You only need to Click ONE Button to download all three art worksheets – you will be asked to subscribe to our mailing list during the process.
Other Art Support Material
For more support materials for new art teachers, especially those in primary or elementary schools, checkout the Teacher Zone
Looking for background art history information to improve the art education of your students? Check out Art History Notes for artist's biographies and art movement information
Look at my YouTube Channel for more information of drawing and Painting tutorials designed to enhance the art education of your children.
Need a short video of the life of a famous artist to get your art lesson off to a great start? See Other Artist Videos for details.