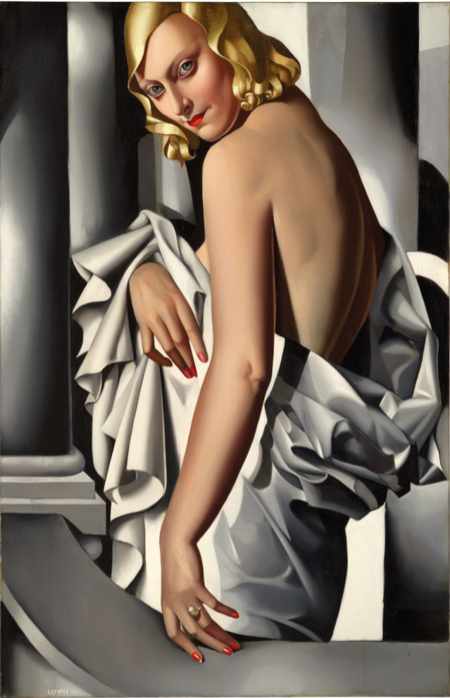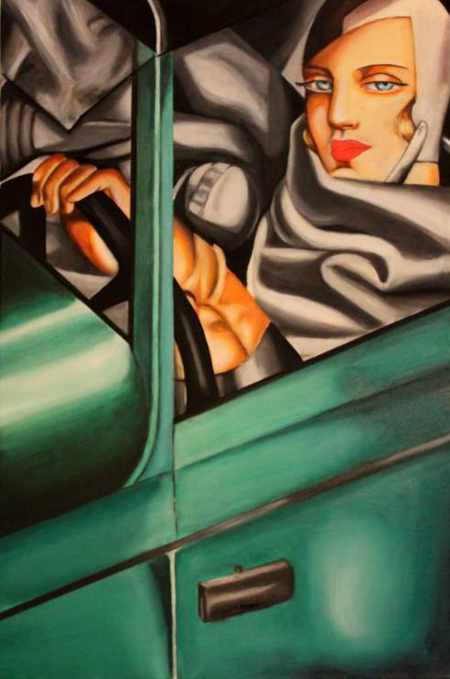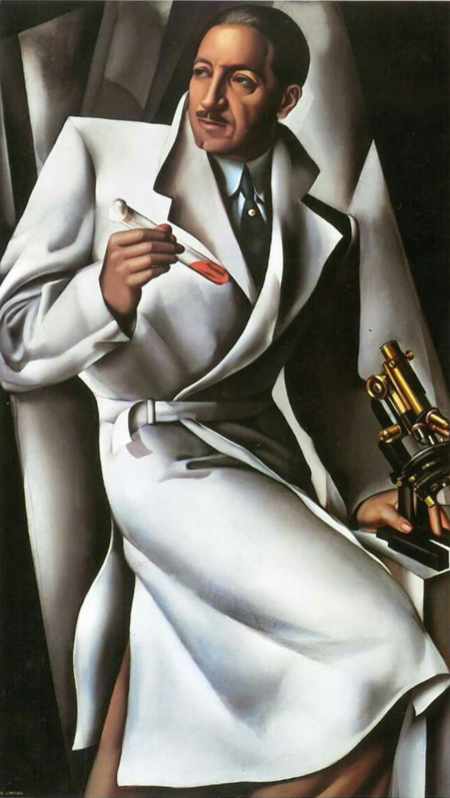 TAMARA DE LEMPICKA
Brief Biography
Tamara Rozalia Gurwik-Gorska was born in Warsaw, Poland on 16 May 1898. Her father was a Russian-Jewish lawyer, and her mother was a Polish socialite. Tamara was sent to boarding school in Lausanne, Switzerland, but often faked illness to escape, because she hated the place. Soon after the 1st World War started in 1914 Tamara attended an opera in St Petersburg, where she met the dashing Polish lawyer Tadeusz Lempicki, she was 15 years old. They subsequently fell in love and married in 1916 in St. Petersburg.
During the Russian revolution in 1917, Tadeusz was imprisoned. Tamara exploited her social connections to secure his release and they fled to Paris, where she reinvented herself as Tamara de Lempicka. In 1919, their daughter Maria Krystyna, known as "Kizette" was born. Later she enrolled at the Académie de la Grande Chaumière and sold her first paintings through the Galerie Colette-Weil. In 1922 she exhibited at the Salon des Indépendents in Paris. Tamara de Lempicka's big break came in 1925, with the International Exhibition of Modern Decorative and Industrial Arts, which gave its name to the style, Art Deco. Her paintings were spotted by American journalists from fashion magazines, and soon her name became widely known.
Tamara de Lempicka was driven by a passion to ascend the social ladder and was entranced by the bohemian lifestyles of the Parisian avant-garde. She was a free spirit and femme fatale and openly engaged in romantic and sexual involvements with men and women. In 1927 de Lempicka received first prize at the Exposition Internationale des Beaux-Arts for her painting, 'Kizette on the Balcony'. The portrait confirmed de Lempicka's growing reputation. The following year she divorced.
In 1929 de Lempicka met Raoul Kuffner, a Baron of the former Austro-Hungarian Empire and soon became his mistress. Also, that year she painted her iconic work "Auto-Portrait" known as 'Tamara in the Green Bugatti' for the cover of the German fashion magazine Die Dame. The Great Depression of the early 30's had little impact on her. Museums were collecting her works and she was busy painting the elites of Europe. In 1933 she travelled to Chicago where her paintings were shown alongside those of Georgia O'Keeffe and Willem de Kooning at the World's Fair. In 1934 she married Baron Kuffner.
In 1939, when war seemed inevitable, the couple left Paris and moved to Hollywood, California. It was not long before Hollywood stars adopted her, referring to her as 'the baroness with a brush'. In 1943 de Lempicka and her husband moved to New York City, where they socialized much as they had always done. But her distinctive style was becoming passe and fewer commissions were forthcoming. Ever determined, she decided to expand her subject matter to include still lives and abstract works. By 1960 she began to use a palette knife instead of her smooth earlier brushwork, in a desperate attempt to remain more in-step with current trends, but it didn't work.
In November 1961 Baron Kuffner died of a heart attack. The following year she had exhibition of her work in Paris, but it was poorly received. She reacted by deciding not to exhibit her work again and embarked on three, around-the-world cruises. In 1966 the Knoedler Gallery in New York City offered de Lempicka an exhibition, but her excessive demands led to the offer being withdrawn. By 1970 her glory days had gone to be replaced by complaints of inferior art materials and people in the 1970's not having the "breeding" that had inspired her art in the 20's.
In 1978 Tamara de Lempicka moved to Cuernavaca, Mexico where her last days became a mixture of paranoia and obsessive control. Tamara de Lempicka died on 18 March 1980. She was cremated and her ashes scattered on the top of the volcano Popocatepetl.
For more information about this artist and art history in general checkout my new website: