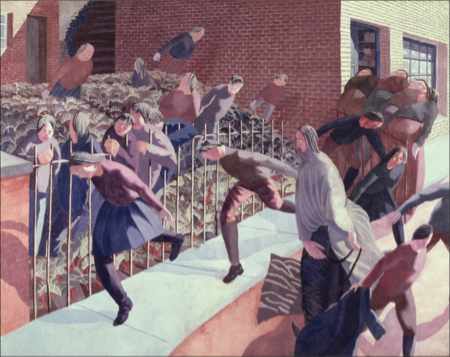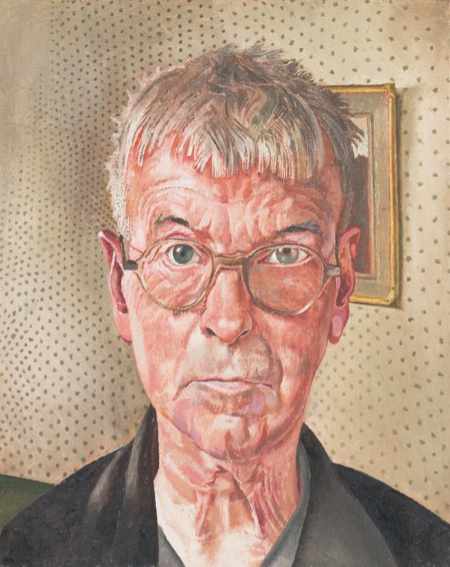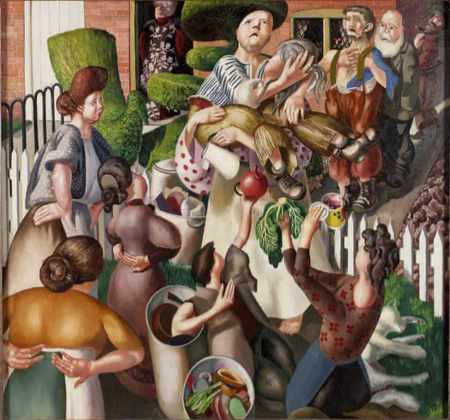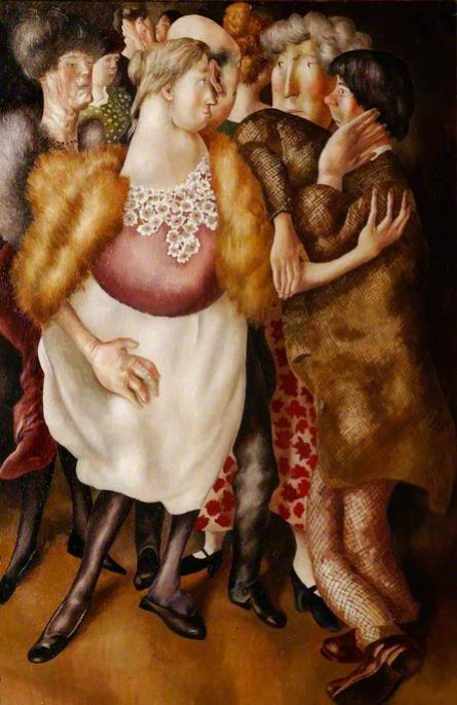 Stanley Spencer
Brief Biography
Stanley Spencer was born on 30 June 1891 in a semi-detached house in the High Street, of Cookham-on-Thames, Berkshire, England. The family had lived in the village for generations and Spencer would live there for most of his life. He was a small man around 5' 2" tall, with a wiry build, he stood out in a crowd, and was very engaging, but he could be exhausting. He was the tenth child of a family of eleven, they were a cultured, but not a wealthy family. Spencer's education was rudimentary, he was home educated by his sisters, because his parents didn't like the local school. Nevertheless, growing up in a family that was consumed by literature, music, and religion provided a rich environment for his imagination to flourish. He would often take long walks filling innumerable sketch books with drawings and doodles.
In 1908 he was accepted at the Slade School of Fine Art in London and studied there for 4 years. He won several prizes whilst there. In 1912 he exhibited his painting, 'John Donne arriving in Heaven' plus several drawings in Roger Fry's Second Post-Impressionist Exhibition in London. At the start of the first World War in 1914, he wanted to enlist, but his mother persuaded him to apply for ambulance duties. In 1915 he joined the Royal Medical Corps. and worked at the Beaufort War Hospital in Bristol. In 1916 he was posted to Salonika here he witnessed the horrific impact of bombardment and machine gun fire. From 1917 he spent almost 2 years at the front line before being invalided out with persistent bouts of malaria. The war had a profound effect on him.
In 1919 Spencer was asked by the British War Memorials Committee to paint a large painting for a planned Hall of Remembrance. Spencer's response was his famous war painting, 'Travoys arriving with Wounded at a Dressing Station at Smol.' In 1925 he married Hilda Carline who he had met at the Slade in 1919. Their first child, Shirin was born later that year. Later in 1927 his painting "The Resurrection, Cookham" was exhibited at the Goupil Gallery, in London to great critical acclaim. The Spencer's then moved to Burghclere so he could concentrate on his paintings for the Sandham Memorial Chapel. Spencer worked on the chapel paintings for 5 years as a way of processing the mental scars left by the horrors of war. The paintings show battle, as well as the more everyday aspects of warfare; soldiers eating, sleeping and having their injuries tended to.
In 1932 he met Patricia Preece, an aspiring artist who lived in Cookham. Preece seemed very exotic and totally captivated Spencer, modelling for several of his paintings. In return, he took her on shopping trips buying her furs and jewellery. By 1935 his relationship with Preece had become intense and eventually led to divorce. Surprisingly, just four days after his divorce from Hilda in 1937 he married Patricia Preece. Shortly after the marriage, Spencer signed over the deeds of his house in Cookham to Patricia Preece. She then forced him to leave, rented out the property and lived on the proceeds. Within two years Spencer was penniless and living in a bedsit in Swiss Cottage in London.
In 1940 not long after the start of the Second World War, he was commissioned by the War Artist's Advisory Committee to paint scenes at the Lithgow shipyard in Glasgow. This are huge paintings. In 1945 Spencer moved to Cliveden View in Cookham and to work on his Resurrection paintings. His original plan was to paint a canvas some fifty feet wide, but soon realised this was impractical. In 1950 he was elected a Royal Academician and awarded the CBE. Later that year, his first wife Hilda died, yet he continued to write to her until his own death. Later, in 1955 a major retrospective exhibition of his work was held at the Tate Gallery in London to much acclaim.
During the 1950's Spencer could be seen wandering the lanes of Cookham, pushing an old pram in which he carried his canvas and easel. If it was cold, he would wear his pyjamas under his suit. Spencer was Knighted in 1958, but in December of that year he was diagnosed with cancer. Later, in 1959 Spencer moved back into his childhood home, Fernlea. But on the 14th December 1959, he died at Canadian War Memorial Hospital. Spencer was cremated and his ashes interred in Cookham churchyard together with those of Hilda his first wife.
For more information about this artist and art history in general checkout my new website: