Indian Artist
This short video covers the life of Indian artist Maqbool Fida Husain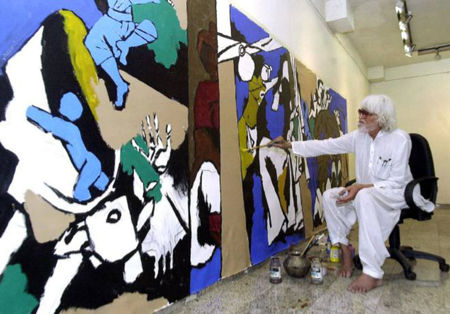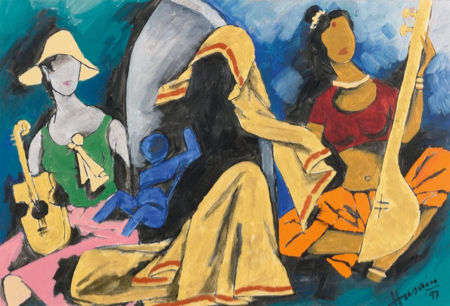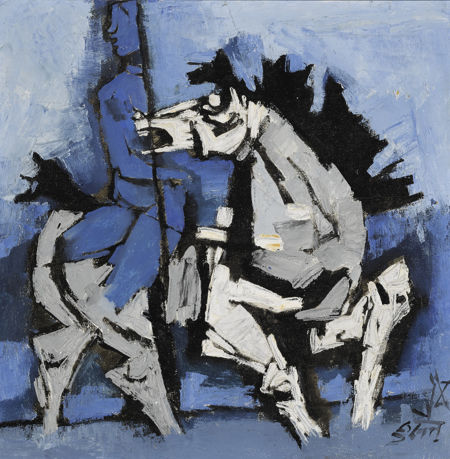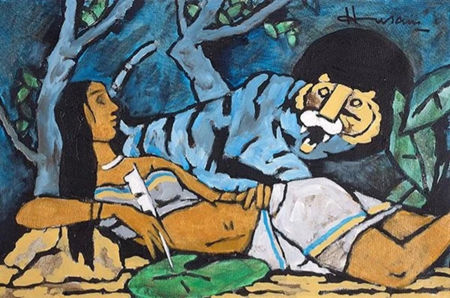 M. F. Husain
Brief Biography
Maqbool Fida Hussain was born on 17 September 1915 in Pandharpur, Maharashtra, India. He developed his taste for art through studying calligraphy while he stayed at a Madrasa in Baroda. Early in his career, Husain painted cinema posters in Mumbai. To earn additional income, he worked for a toy company designing and building toys. He often travelled to Gujarat to paint landscapes whenever he could afford to travel.
At the age of 20 M. F Hussain went to Bombay, now known as Mumbai, and studied art at the Sir J. J. School of Art. His break came in the late 1940's when he won a prize at the Annual exhibition of Bombay Art Society. This brought his paintings to the attention of the influential Indian artist Francis Newton Souza. In 1947 Souza invited M. F. Husain to become a founder member of the Bombay Progressive Artist's group. During this time M F Husain's art reputation grew and he held his first solo art exhibition outside of India in 1952 in Zurich, Switzerland.
Later, in 1964 he held his first exhibition the United States in India House in New York. Most of his painting were created in a modified Cubist style. He often painted a series of paintings around a single topic covering themes as diverse as Mahatma Gandhi, Mother Teresa, the Ramayana, one of the two epic poems of India, the British Raj, and Indian urban and rural life. His great love though was for horses, their free spirit and lively inspired. In 1971 he was invited artist, along with Pablo Picasso, to the Sao Paulo Biennial in Brazil. He also painted the famous Bollywood actress Madhuri Dixit.
In February 2006, Husain was charged with "hurting sentiments of people" because of his nude portraits of Hindu gods and goddesses. At the age of 92 Husain was given the prestigious Raja Ravi Varma award by the government of Kerala state in India.
Known throughout his life simply as M. F. Hussain, he is often referred to as the 'Picasso of India' and despite the controversy, he is regarded as one of the most celebrated and internationally recognised Indian painters of the 20th century.
For more information about this artist and art history in general checkout my new website: