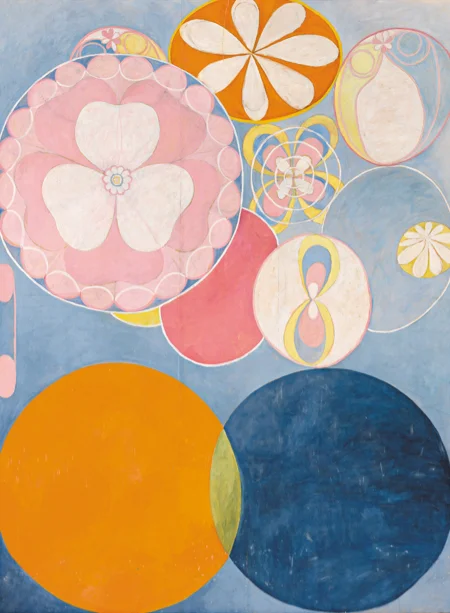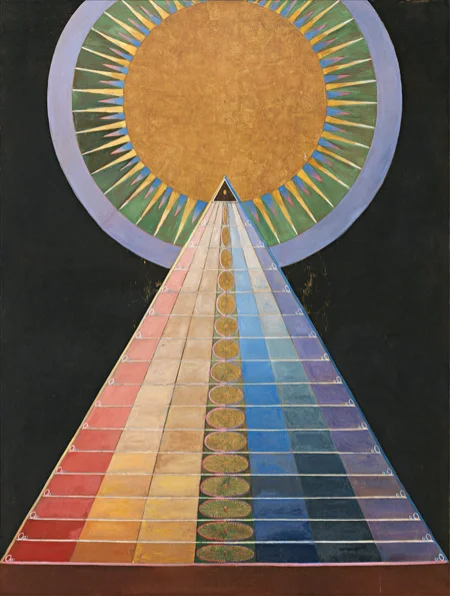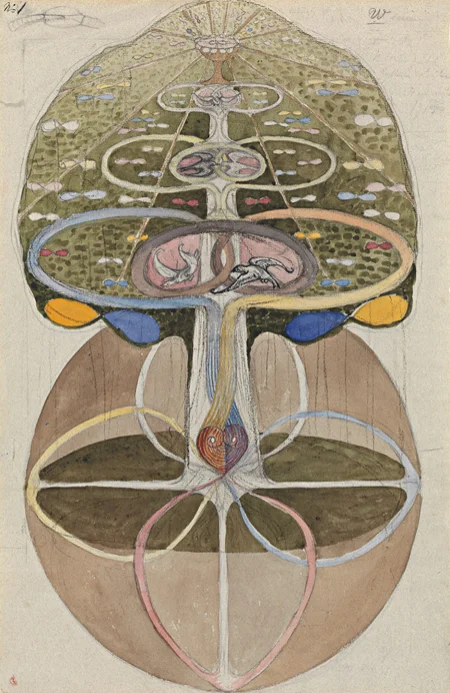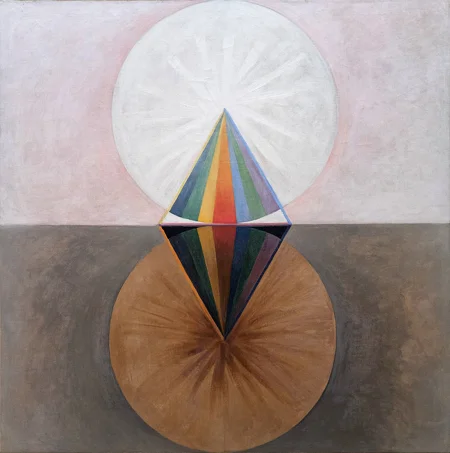 Hilma af Klint
Brief Biography
Hilma af Klint, the Swedish artist was born on 26 October 1862, at the Karlberg Palace in Solna, Sweden, the naval academy where her father was based. She was the fourth of five children born to Mathilda and Victor af Klint who were both staunch Protestants. Most of her childhood was spent in the Karlberg Palace, but during the summers, the family would move to Adelso, an island in Lake Malaren, near Stockholm. It was here that Hilma's fascination with nature and organic life began.
In 1880 she attended the Technical School, now known as Konstfack, and studied classical portraiture with artist Kerstin Cardon. Around this time, she became a committed vegetarian, took to wearing black and began developing an interest in the spiritual and the occult. At the age of 20 in 1882, Hilma was one of the first women to enroll at the Royal Academy of Fine Arts in Stockholm. She spent the next five years studying drawing, portraiture and landscape painting. She graduated with honours and as a result, was awarded a studio in the Academy's "Atelier Building", in Stockholm's artist quarter.
In 1896 she joined the Edelweiss Society but left soon after with four other like-minded women artists and founded the "Friday Group", also known as "The Five".
They met for spiritual meetings, meditation and séances. The medium, Sigrid Hedman, one of the five, led exercises in automatic writing which would later be adopted by the Surrealists. In 1904 Hilma af Klint's work profoundly changed after an otherworldly experience. During a séance, she claimed to have heard a voice telling her to make paintings 'on an astral plane'. So, in November 1906 at age 44, Hilma af Klint began creating, 'The Paintings for the Temple,' which comprised several series of paintings on various themes. The first, preparatory group was called Primordial Chaos and consisted of twenty-six small pictures which are the first abstract paintings. They broke free entirely from representation, combining geometric shapes such as spirals with dynamic brushstrokes, letters of the alphabet and symbols.
It was a conscious decision on her part to keep these works secret, only showing them to a small, very select group of friends. Hilma af Klint shared her interest in the spiritual with the other pioneers of abstract art including Wassily Kandinsky, Kazimir Malevich, and Piet Mondrian. And like Hilma af Klint many were drawn to Theosophy, which opened a route towards a new world of spiritual reality. This opened an abstract world which proved more compelling than merely depicting visual impressions of the world around them.
If Hilma af Klint hadn't kept her abstract work secret, she would surely have held the accolade of producing the world's first abstract paintings. Instead, Kandinsky's paintings of 1911 would, until recently, come to be recognised as the first abstract works of art. On her death Hilma af Klint left more than 1,200 works of art, which had only been seen by a handful of people. In her notebooks she stipulated her work should not be publicly displayed until at least 20 years after her death. Hilma af Klint did not have any contact with the modern movements of her time, yet she is now generally considered to be the pioneer of abstract art – her first abstract painting created in 1906, pre-dates Kandinsky's by five years. Hilma af Klint died on the 21 October 1944 after a car accident.
For more information about this artist and art history in general checkout my new website: